Character Stats
| | | | | |
| --- | --- | --- | --- | --- |
| Class | Hitpoints/Level | Hitpoints/Vitality | Mana/Level | Mana/Energy |
| Amazon | 8 | 6 | 4 | 5 |
| Assassin | 8 | 6 | 6 | 5 |
| Barbarian | 8 | 7 | 4 | 4 |
| Druid | 8 | 5 | 6 | 6 |
| Necromancer | 8 | 5 | 7 | 7 |
| Paladin | 8 | 7 | 5 | 5 |
| Sorceress | 8 | 5 | 7 | 8 |
All characters start with 150 base hitpoints. Each point in strength give 2.5-3.25% damage to melee weapons. Each point in dexterity gives 2.25-3.0% damage to ranged weapon attacks. Each energy point gives 0.25% bonus damage.
Resistances
Maximum elemental resistances 75%
Maximum physical resistances 60%
Maximum magic resistances 75%
Maximum shield block 66%
Maximum weapon block 45%
Normal no penalty
Nightmare -80 resistances
Hell -160 resistances
Improved User Interface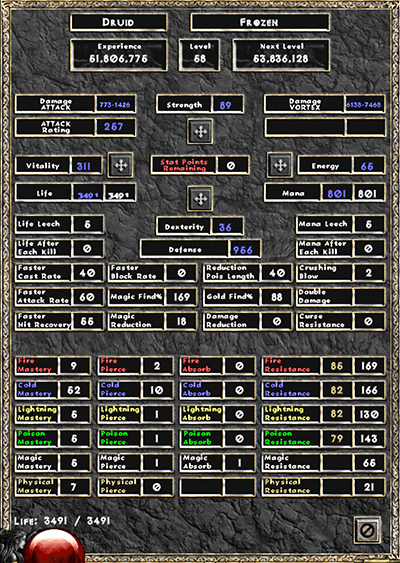 Auto Gold Pickup
In Hell Unleashed Gold is automatically being picked up when you walk over it.
Gambling
Gambling unique and set items has been disabled.
Unique Charms
Where do I find all the unique charms?
Other charms are random drops by normal monsters.